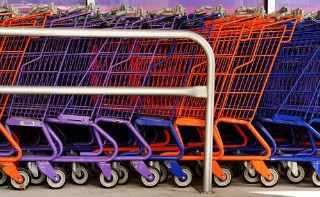 CLEANING RECIPE
I was cleaning the bathroom the other day and was disappointed when I found out that I was out of Windex.  Because I so easily stop doing something like cleaning when I hit a minor wall, I decided to see if I could make a window/mirror cleaner with what I have at home.  Sure enough the internet is FULL of recipes.  Here is what I used because I had it on hand, AND it worked like a charm.
Glass/Mirror Cleaner
Combine in empty spray bottle:
-1/2 part water
-1/2 part white vinegar (on hand always for so many reasons from food to fabric softening)
-2 drops of Dawn dish soap (the perfect random-oily spot remover for laundry)
STATIC CLING TRICK
In Arizona it is no shocker that it is dry and dry equals static.¬† It gets dryer as the weather gets colder, and it seems like no matter how much fabric softener or dryer sheets I add, I am still zinging my family with my superhero static touch and the laundry is zinging me as well.¬† But I have found a perfect tip to relieve that static snap…foil.¬† Yes aluminum foil.¬† Just wad up a ball of aluminum foil and toss it in the dryer.¬† It will help reduce the static and lasts for about six months!¬† One thing, don't use this with delicate items that could snag.¬† Crazy!¬† Sorry, I get excited about the little things.¬†
 
FREE EBOOKS (A quick reminder that what you see was free at the time of my posting.  The prices change quickly so always confirm your price before downloading). 
Love by the Letter by Melissa Jagears (Bethany House Publishers) (AMAZON)
Inescapable by Nancy Mehl (Bethany House Publishers) (AMAZON) (CHRISTIANBOOK.COM) (BARNES & NOBLE)
The 7-Day Prayer Warrior Experience by Stormie Omartian (Harvest House Publishers) (AMAZON) (CHRISTIANBOOK.COM) (BARNES & NOBLE) 
The Someday List by Stacy Hawkins Adams (AMAZON) (BARNES & NOBLE) (CHRISTIANBOOK.COM)
Sustainable Living Explained by Sarah Burke (AMAZON)
The Green Home Cleaning Guide by Michelle Anderson (AMAZON)
Wild Thing (Winnie the Horse Gentler Series) by Dandi Daley Mackall (CHRISTIANBOOK.COM)–Yes this is a book great for young girls from Tyndale House Publishing
FREE SAMPLES
If you haven't had the chance to order it yet, you still have an opportunity to get a free sample of Ovaltine via their Facebook page.
While supplies last, sign up for Eucerin Professional Repair extremely dry skin lotion.  Get your sample at this link. 
While supplies last, sign up for a free sample of Nordic Naturals supplements by following this link.  The free sample link is at the bottom right.
REBATE
You have to change them anyway why not get a rebate out of the deal? Receive a $6 rebate by mail when you buy 2 individual Filtrete'ĄĘ High¬†Performance Filters with a Microparticle Performance Rating (MPR) of¬†1500 or greater.¬† Follow this link to the printable form.¬† Be sure to follow all directions on the form.
GROCERIES (all store names link to their websites)
Jennie-O Oven Roasted Turkey Breast (deli) $2.99 lb (limit 2 pounds)
Rancher's Reserve Boneless Beef Chuck  Cross Rib Steak or Country Style Ribs $2.99 lb
Kroger Brats or Italian Sausage 18 oz $3.19 or ground 16 oz $3.19 (pull of the skins and get the sausage links)
Comments
comments