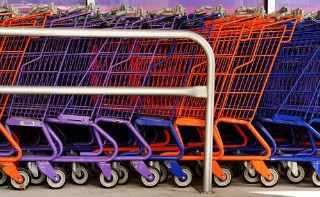 WEBSITE
Get paid back for items you buy anyway.  I've mentioned it before, and I am mentioning it again.  If you haven't yet, sign up for  Savingstar.com.  Register your store loyalty cards (I have my CVS and my Fry's card signed up), pick the available savings that you want to upload to your card and when you buy those items, the savings goes into an account.  Once you have saved at least $5, you can cash in with an Amazon gift card, Pay Pal, a bank deposit or donation to American Forrests.  Does it add up?  Yes.  I pick almost everything and if I buy the item great.  I do not buy anything just to get the cash back.  So it has taken some time, but I have received almost $18 for just doing what I normally do…grocery shop for what I normally buy.  Check them out at this link.  
Now that the new year is in full swing, I thought it would be cool to find things that we can make this year rather than buying in order to save some extra money.
CLEAN
Natural Disinfectant – This recipe is from the frugal life.
1 Quart of water
20 drops of tea tree oil
20 drops of lavender essential oil
10 drops of lemon essential oil Add all ingredients to a spray bottle shake it up, and you are good to go!
Yes essential oils can cost a bit when you first buy them but nothing crazy and they last for a long time and have many uses. 
COOK
Stop Stop Stop buying broth and stock and start making your own. 
Here is an easy recipe in a nutshell.  All you need is a crock pot.
1 Chicken carcass – I bake a lot of whole chickens and then take off as much meat as possible.  Whatever is left will be used to make stock.  Your leftover rotisserie from the grocer works too!  Take the carcass and place in the crock pot.  Add an onion and whatever else you may have.  I like to save excess veggies and use them for this.  If you don't have any veggies or even onion, no problem just put it in the pot anyway.  Fill the crock pot up with water covering the chicken and filling the pot up a little over 3/4 of the way.  Put pot on low and let it go.  This is a great thing to do when going off to work.  The stock is ready when you get home!  Strain the stock and freeze portions for cooking.  The stock will be thick and gelatinous. You can make a similar stock with left over beef bits (you know the ones that you simply wont eat).
COOK 2
BUTTER
In my house we use butter.  My parents bought margarine when I was a kid, and that was one thing that I decided I would not do even if I had to make butter myself.  This is a great recipe which can be fun for kids too.  
1 Quart Mason Jar
1 Quart or larger bowl
1 Strainer 
1 pinch of salt
1/2 Pint of Heavy Whipping Cream (I like to use half for whipped cream and the other half for butter)
1 marble (yes a marble)
Directions:  Chill jar and marble in the fridge for about an hour.  This will really help your butter set quickly.  Pour cream into the jar, drop in the marble, close the lid tightly and shake.  As you shake the cream will get thicker and coat the jar.  Eventually you wont really hear the marble because the cream will muffle it, but keep shaking, because you will hear the marble again when the cream starts to clump up into butter.  Give it about another 15 minutes and then pour the contents into the bowl with the strainer.  This separates the butter from the buttermilk. Pour the buttermilk into a container and put in the fridge (you can use this for a great salad dressing base).  Now clean out your bowl and put the butter in.  Pour cold water over and cover the butter.  Strain water from butter again and again and again (don't save this water) until the water comes out clear (you want to remove any remaining buttermilk so it wont sour your butter).  Stir and press your butter against the bowl with a wooden spoon until all the buttermilk and water is worked out add the salt at this point.  Once you definitely have the water out, put it in the fridge to harden up for an hour.  Now the cool thing about this is you can get the kids into the activity so they can learn how to do it, have a little fun, and see what goes into making something so simple.  It is also something you can do while enjoying some television without feeling guilty, because you are being productive. 
CLEANSE (the face)
Facial cleanser and moisturizer.
This one is so great!  You don't even have to make anything!  It is another minor investment with some serious staying power.  Spanish Extra Virgin Olive Oil (for a time saver we will call it SEVO) is an amazing facial cleanser and moisturizer. Since all you need is to put some in a small container to keep at the ready there is little direction other than how to use.  So here we go:
Pour about a palm full (like a tablespoon size) of  SEVO out and massage gently into your face for two minutes.  Then take a wash cloth and hot water (sink hot not stove hot).  Wring out the cloth and place on your face for a minute.  Follow that by wiping face with the cloth.  Go to bed.  I started doing this about two months ago, and it has been amazing.  I have not had any winter dry skin on my face.  Make sure you use the Spanish and no other kind.  It is the best for your face because of the way it is prepared.  It cost me a little over $6 for a 17 oz bottle and I have used less than a quarter of the bottle so far.  If you are worried about blemishes, look it up.  Lots of people have used this and their skin has gotten even better not oilier.  
Now I was thinking about learning how to make vinegar and sharing that, but it is a LONG process and probably not so much a money saver as it is just really cool.  I plan on looking for the materials I'd need to do it, and if I go for it, I'll be sure to post all about it.  


FREE MAGAZINES
Got babies in the family?  If you haven't signed up, here is a link for a free subscription to American Baby magazine.
Parents of babies and toddlers can get more help with Baby Talk magazine. Sign up for your free subscription here. 
FREE EBOOKS (Remember ALWAYS check the price before you order, because these books may be free when I put them up here, but that can change at any time)
Land of My Heart by Tracie Peterson (CHRISTIANBOOK.COM) (AMAZON) (BARNES & NOBLE)
The Calling of Emily Evans by Janet Oke (CHRISTIANBOOK.COM) (AMAZON) (BARNES & NOBLE)
Betrayed by Jeanette Windle (AMAZON)
Easy Slow Cooker Recipes for Busy Moms by Rachel Ryan (AMAZON)
Skinny Pizza: Over 100 healthy recipes for America's favorite foods (AMAZON)
GROCERIES (All store names link to their websites so you can see their calendar)  These are my faves.
Sanderson Farms Jumbo Pack Chicken -Thighs, Drumsticks, Leg Quarters or Whole Body Fryers
99 cents lb
Fresh Assorted Pork Loin Chops Bone-in $1.79 lb
Cook's Spiral Ham Fully cooked, Bonein 99 cents lb (limit 2) While supplies last