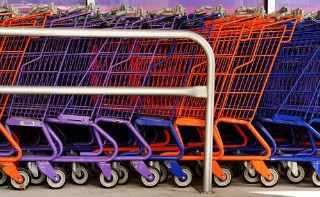 RECIPE
The weather is officially on the cold side which means it is a perfect time to start making lots and lots of soup!  I think my husband looks forward to winter just for the opportunity to eat lots of chili.  Soups can be a huge saver on so many levels.  Soup can save money because you can totally utilize leftovers.  They save time because you can toss almost all the ingredients in a crock pot and just go.  Oh and back to saving cash, a crock pot uses much less energy than cooking on the stove.  With ground beef on sale this week at Albertsons, chili in the crock pot is a great cooking option.  Make tacos the night before and use the left over already seasoned taco meat in your chili.  I stretch the protein with beans and add just about any veggie I can think of. This recipe is more of a chili soup.
Chili Soup
Ingredients
1 lb ground beef 
1 bunch celery chopped 
6 cups of water 
1 large can of whole peeled tomatoes including juice (I'm not sure of the size just make it big you know the kind that look almost like a coffee can)
1 can of tomato soup (any brand)
1 green bell pepper chopped (or buy a bag of Kroger frozen chopped bell pepper)
1 yellow onion chopped (or half a bag of Kroger frozen chopped onions)
1 large can of red kidney beans (rinse and drain)
1 large can of pink beans or pinto beans (rinse and drain)
1 regular sized can of black beans (rinse and drain)
2 Tbs chili powder
1 Tbs cumin
1 tsp salt
1 tsp cayenne pepper
1 tsp pepper
1/2 tsp garlic
1/4 cup of corn flour (will mix with water to use as a thickener)
Directions:
Chop celery and add it and about 6 cups of water to the crock pot, follow with beans, tomatoes, tomato soup and all spices.  In a frying pan, fry onions and peppers for about five minutes before adding ground beef.  Brown ground beef and add spices.  Once the meat is fully browned, add it to the crock pot mixture.  Set on low and let it go.  Six hours later or more mix corn flower with water to create a thickening mixture.  You will want it to look thick like a gravy, not watery.  Mix this well into your chili and add it to the crock pot.  Let cook about 25 more minutes. 
WEBSITES
Christmas is behind us, but the shopping is still going strong as well as the return to the mall for…well… returns.  Keep in mind that you don't have to return everything though.  Sometimes we get gift cards that we can't use or we simply forget to use gift cards that we receive for Christmas.  Rather than letting those cards be placeholders in your dresser or wallet, consider selling them at PlasticJungle.com or GiftCardRescue.com.  Oh!  And don't forget CardPool.com.  All three sites are great places to sell your unwanted gift cards or buy gift cards at a discount.  
Another thing you might not want to return right away is that kind of homely Christmas sweater.  If somehow you got saddled with a less than darling Christmas sweater, save it.  Maybe you can cash in next year with an ebay sale of that…ummmm…beauty.   Check out MyUglyChristmasSweater.com for some inspiration.  
If the whole Instagram fiasco of whether or not your photos will be sold has got you still a bit unnerved, check out another free photo app that has lots of great filters that you might like to try.  It is called Streamzoo. It was the winner of Best Android Photo Sharing App on 2011 Best App
Ever Awards.  It is also available for your iPhones and iPads. 
FREE EBOOKS (These books were free at the time of my posting. Prices can change quickly so be sure to check the price before you download)
Where Is God When It Hurts by Phillip Yancy (BARNES & NOBLE) (CHRISTIANBOOK.COM) (AMAZON.COM)
Reinventing Rachel by Alison Strobel (CHRISTIANBOOK.COM) (BARNES & NOBLE)
Code Blue by Richard Mabry (CHRISTIANBOOK.COM) (BARNES & NOBLE)
GROCERIES
ALBERTSONS (Don't forget that if you were saving up Cuisinart stamps, they need to be redeemed by January 8th)
Pork Loin Back Ribs Previously Frozen Buy 1 Get 2  Free (Reg $7.99)
Boneless Beef Bottom Round Roast $3.89 lb
Fry's Milk Whole, 2% Reduced Fat, 1% Lowfat or Nonfat or Mountain Dairy Chocolate Milk Gallon 2/$3.00 (limit 2)